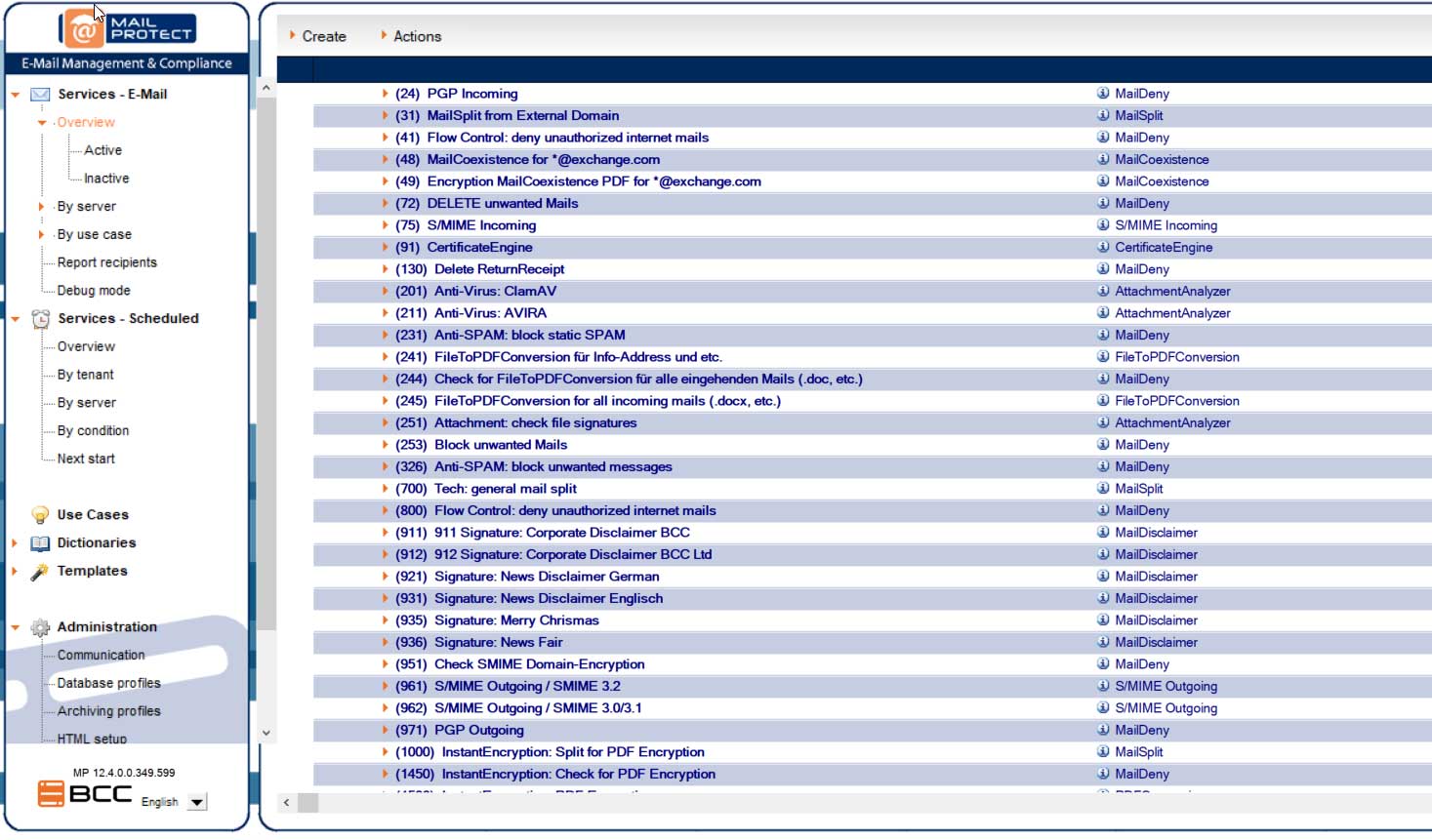 ---
Important information:
Following on from two vulnerabilities identified on October 11th 2023, the open-source curl project has recommended that users of the libcurl library upgrade to use the latest version of this library.
BCC makes extensive use of the open-source library curl (or libcurl) in many of its products. This library is used by our products when transferring data over HTTP or HTTPS. The curl open-source project has announced a new version (8.4.0) addressing the security vulnerabilities identified.
We are now pleased to announce that our latest versions of all products will use curl version 8.4.0, which is identified as not having the vulnerabilities. The new version MailProtect 12.4.0.2 is now available on our download website.
More details on the vulnerabilities can be found at https://curl.se/docs/CVE-2023-38545.html or https://www.intruder.io/blog/curl-high-rated-cve-2023-38545

---
BCC MailProtect
Are you ready to take control of your email communication, fortify your security, and ensure compliance with today's stringent regulations? Look no further than BCC MailProtect, your ultimate one-stop shop for all things email-related.


Ensure Email Signature Compliance
Bid farewell to inconsistent email signatures. With MailProtect, effortlessly maintain corporate design-compliant email signatures across your organization, leaving a professional impression with every message.

Multi-Layered Antivirus Protection
Safeguard your organization from malware threats with MailProtect's multi-layered antivirus services. Benefit from ClamAV and a leading antivirus solution from AVIRA, ensuring comprehensive email attachment scans to keep your business secure.


Attachment Analysis
No more second-guessing attachments. MailProtect's advanced attachment analysis feature automatically checks attachments for safety before they reach your inbox, enhancing your email security.

Data Leak Prevention
Protect your sensitive data with MailProtect's data leak prevention tools, keeping it safe from unauthorized access and accidental sharing.


Effortless PDF Conversion
Simplify the conversion of attachments to PDF files before sending emails. Enhance the professionalism of your correspondence effortlessly.


Robust Email Encryption
Email security is paramount. MailProtect automatically encrypts outgoing emails, offering PGP, S/MIME, or AES-based encryption, even for recipients without encryption keys.

Rule-Based Central Email Management
Effortlessly manage your email infrastructure with MailProtect's rule-based policies. Gain complete control over email communication, from efficient Out-of-Office management to delegation and forwarding, all in real-time.


Secure Messaging Choices
Choose from a range of secure messaging options, including conventional encryption via PGP and S/MIME, with seamless certificate handling. Additionally, for recipients without these protocols, we offer password-based instant encryption using AES, ensuring comprehensive protection for all.


Anti-Spam and Malware Filters
Eliminate spam and malicious emails with MailProtect's advanced content filtering, powered by IBM X-FORCE® security. Maintain a clean inbox and protect your organization from threats.


Streamlined Compliance
Automated archiving ensures your organization remains compliant with industry regulations, maintaining detailed email records effortlessly.


Secure Messaging and File Transfer
In addition to email security, MailProtect offers secure messaging and file transfer options, safeguarding your sensitive data in transit or at rest.
With MailProtect, we're committed to revolutionizing your email security experience. Say goodbye to email-related challenges and embrace a secure, efficient, and compliant future. Schedule a meeting with us today and experience next-level email protection.
Features of BCC MailProtect
One-stop-shop
Ensure correct and corporate design compliant email signatures

Provide multiple antivirus services

Check incoming attachments

Provide data leak prevention

Automatically convert attachments to pdf files in outgoing emails

Automatically provide secure encryption for outgoing emails

Real time check based on "Mail Conditions" which interpret one or more configured rules such as efficient Out of Office management including delegation and forwarding

Provides several secure messaging options such as conventional encryption via PGP, S/MIME including certificate handling or password based instant encryption based on AES

Instant Encryption based on AES is designed to satisfy security and date protection requirements for recipients who have neither S/MIME nor PGP Public Keys

Checks for spam and malicious mails using advanced content filtering

Subthemes

Centralized rule-based policies

Email signature branding and disclaimers

Out-of-Office delegation and forwarding

Automated archiving

Secure messaging and file transfer