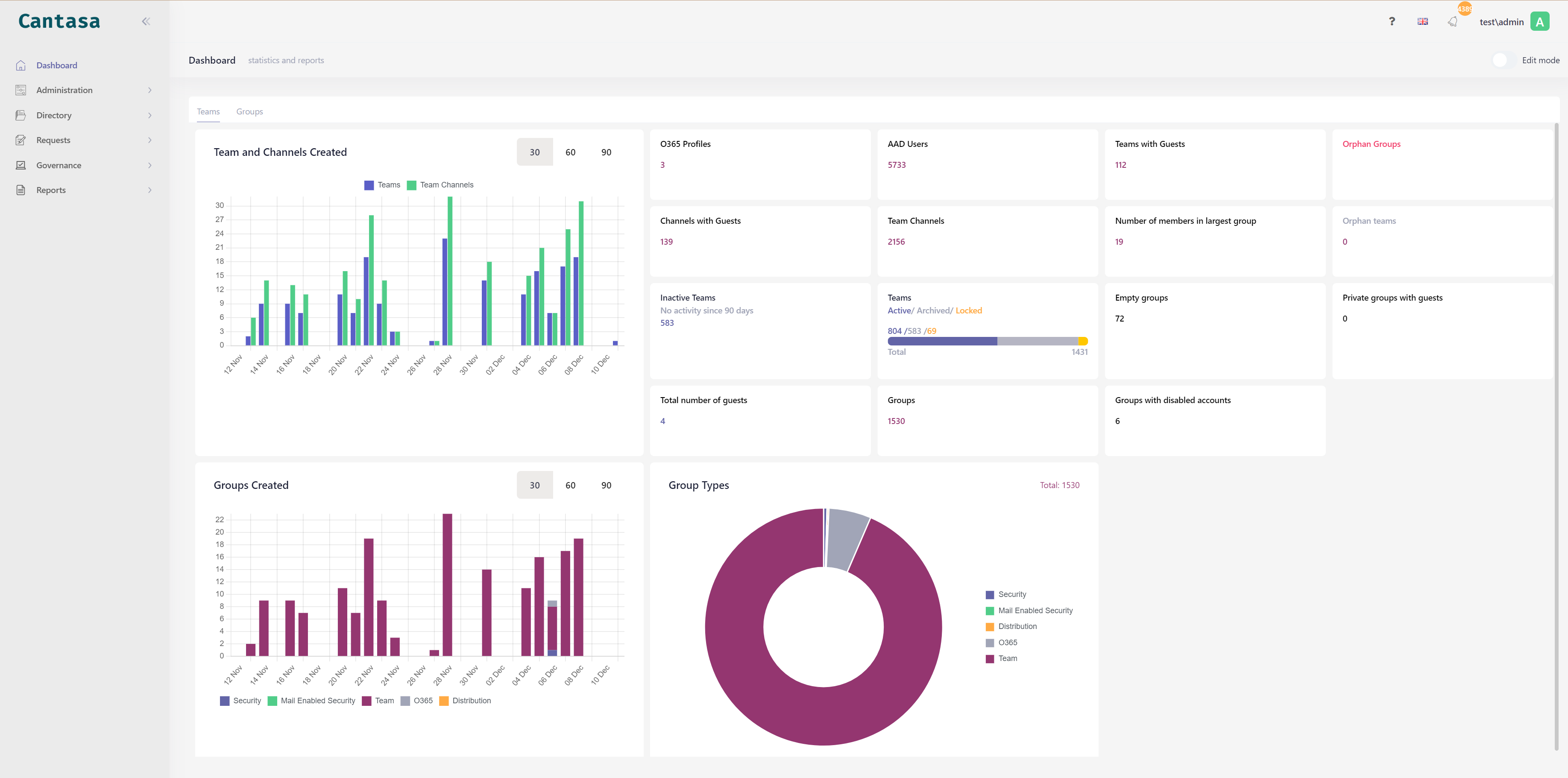 Book a demo to secure an exclusive free trial of BCC Affirmatic for 3 months!
---
Affirmatic for Microsoft 365, Teams and HCL Domino simplifies, delegates, and automates the creation, management, and end of life of teams, groups, and shared mailboxes. It also provides enhanced security, governance, and administrative control over your environments.
Governance is a Challenge
Governance in Microsoft 365 is a challenge. The uncontrolled content and workspace sprawl that most organizations experience not only threatens the employee experience but also amplifies the risks of oversharing and data loss.
This challenge extends beyond content, as a lack of clear guidelines for naming groups can lead to confusion and workflow bottlenecks. Group ownership transitions and departures can further exacerbate the issue, leaving groups orphaned and ineffective. While M365 admins possess the ability to restrict group creation, an outright ban jeopardizes the platform's utility.
Striking a balance through a thoughtful group management policy is essential, fostering collaboration without sacrificing control. In this intricate landscape, a strategic approach to Teams and Group Management is pivotal, elevating your organization's efficiency. To harness the full potential of Microsoft 365 while safeguarding security and enhancing user satisfaction, finding a robust governance framework becomes imperative. With its unified point of access, BCC Affirmatic provides just this framework.
BCC Affirmatic Core Features

Teams Management
BCC Affirmatic ensures and provides custom corporate standards that go beyond standard MS Teams templates, controls Teams sprawl with precision life cycle management, and guarantees ownership through clear delegation of roles. Prevent the chaos of multiple teams for the same purpose, inadvertent sharing of sensitive information, and the haunting presence of obsolete teams with our detailed audit trails and approval workflows.
Custom corporate standards that go beyond standard MS Teams templates

Careful and precise life cycle management to control Teams sprawl

Coherent delegation of roles to guarantee Teams ownership

Consistent and detailed audit trails to ensure maximum governance
Group Management
BCC Affirmatic goes beyond default restrictions, offering coherent policies for group naming. No more orphaned groups or spiraling memberships. Take control of group ownership seamlessly without limiting the expansive capabilities of Microsoft 365.
Custom tailored and specific group naming policies that go beyond default restrictions

Prevent orphaned groups and spiraling memberships

Control expiration dates with automated lifecycle management processes
Guest User Management
BCC Affirmatic's streamlined process includes straightforward requests and simple approval workflows, coupled with automated processing for the creation of Azure AD accounts. Seamlessly integrate users into Teams, Groups, and SharePoints, fostering a collaborative environment that effortlessly aligns with your custom needs. With a watchful eye on expiration dates and grace periods, BCC Affirmatic ensures a fluid and well-governed lifecycle for your guest users. Elevate your experience with a tool that not only simplifies but enhances your control over the dynamics of user management.
Simple request and approval workflows for guest users

Automated processing to create guest users in Azure AD

Add guest users to only specific Teams, Groups and SharePoints

Monitor expiration dates of guest users to govern the account lifecycle



PowerShell Automation
BCC Affirmatic empowers you to craft tailored solutions for your unique tasks. Seamlessly automate manual workflows using our customized PowerShell Scripts, providing a secure and centralized execution that transforms intricate tasks into streamlined processes. Experience the ease of task delegation and the power to enhance your administrative prowess with BCC Affirmatic's innovative approach to solution creation and workflow automation.
Create standard solutions for your specific administration tasks with custom PowerShell Scripts.

Automate manual workflows securely and centrally
Make it your own!
Seamlessy integrate your current management procedures with streamlined precision in BCC Affirmatic. Enjoy the effortless configuration of processes and workflows, ensuring a smooth and harmonious operational landscape. Gain peace of mind with our comprehensive logging and traceability, providing a clear record of every action taken. The customizable web portal adds an extra layer of convenience, perfectly aligning with your internal admin portals, ensuring a cohesive and tailored user experience.
In the dynamic realm of Microsoft 365, BCC Affirmatic is your compass, guiding you through intricacies and empowering you to harness the full potential of collaboration, security, and efficiency. Elevate your Microsoft 365 experience with BCC Affirmatic—where Management meets Mastery.
Features of BCC Affirmatic
Benefits
BCC Affirmatic Object Lifecycle
Target Systems
Benefits
| | | |
| --- | --- | --- |
| Management of the entire Teams lifecycle | Simple integration into existing management procedures | Configure processes and workflows |
| Delegate tasks to help-desk staff or enable users self service | Comprehensive logging and traceability | Customizable web portal to adapt and integrate in your internal admin portal |
BCC Affirmatic Object Lifecycle

Target Systems
BCC Affirmatic connects to a wide range of systems :
✔️ Microsoft 365
✔️ Microsoft Teams
✔️ Microsoft SharePoint
✔️ Azure Active Directory
✔️ Active Directory
✔️ Microsoft Exchange on Prem
✔️ HCL Domino
Other BCC products built for Microsoft applications
Other BCC products built for HCL applications
View all BCC products