About BCC
BCC helps organizations transition to Microsoft 365 and optimize existing M365 and HCL Domino infrastructures - focusing on security, governance, and digital identity, as well as transforming data to help organizations embrace new ways of working together and reduce management costs.

BCC was founded in 1996 and has around 40 employees today. Our headquarters are located in Eschborn near Frankfurt; international business is conducted by our subsidiary BCC Business Collaboration Company Ltd. in London. Since its foundation, more than 8 million user licenses have been sold. More than 800 companies worldwide trust BCC's solutions.
A letter from our Founder & CEO
September 2023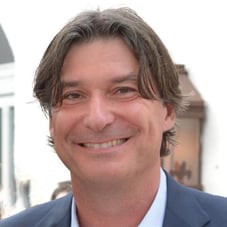 I have always had a mission and a passion for collaboration.    
While attending university in the late 1990's I was involved with research on computer distributive work. It got me thinking, how can computers support collaboration? How can we make it more efficient and have people work beyond a group location? We had done some research and looked at an early version of Lotus Notes which I was so fascinated by, I planned to do my Ph.D. research on collaboration and Lotus Notes.    
A few years later IBM took over and it was about this time when I was asked by companies to help them implement Lotus Notes. So, what started as a hobby, turned into this technical startup to help companies to implement the Lotus stack.    
As the Lotus market changed and grew, so did we. We realized the toolset to help customers make the most of their investment, had gaps in the security automation, infrastructure management and governance. So, taking our knowledge and experience from customer engagements, we spent the next few years building software to fix those gaps.  
First there was an identity management solution and deployment solution that not only helped deploy Notes, but to ensure they had the security and automation needed. This was just the beginning that would morph into a suite of products including secure messaging, antivirus, identity management paired with the consulting and services arm allowed us to offer an unmatched set of products and services across the globe. 
By the early 2000's, BCC, which started as a consulting company, now had a strong and growing portfolio of products that now made up over 70% of our business.   
It was at this point that we started to invest in software and services for Microsoft leveraging their new Active Directory feature for Server 2000 (No more LDAP!).   
In 2017 Microsoft announced a brand-new product, Microsoft Teams. We saw this as a fantastic opportunity to transfer the extensive knowledge we had about collaboration space with Lotus Team Rooms (a database where you can store your emails, data and your files that also supported workflows integration) to help support customers implementing this new product. 
  With Microsoft Teams, we saw it was too easy to create a new Team. Creating a new team was much more complex than was Lotus offered. From initial deployment to individual team creation, we saw early on that Microsoft Teams was lacking security, management and governance features that companies expected.    
At Ignite in 2019, we launched Affirmatic for Teams. This tool was based on feedback from our customers. They needed to delegate administration and self-services for Microsoft 365, have an easier way to establish effective Microsoft 365 & Teams Governance and reduce Teams sprawl with Lifecycle Management. They were also asking for simpler ways to manage Teams more effectively, Microsoft 365 groups and external users. 
What do our customers think? The Bundeswehr (the German Army and Civil defense) with 200k personnel, chose our migration engine to move to Microsoft 365. We helped them migrate over 180,000 mailboxes without a single error.  
Another company, Teradyne, over 6,500 employees worldwide, designs and manufactures automatic test equipment for companies like Samsung, Qualcomm, Intel, Analog Devices, Texas Instruments, and IBM, said "Using BCC tools, our migration project was within budget with no regrets. A resounding success!" 
 What is next for BCC?    
We see that the Microsoft cloud holds amazing possibilities for our customers. But that it is far more complex every year with every new product and feature added. Microsoft 365 is not a "solution" but, a complex and changing organism.  
We also see that what we have done and built for the marketplace over the last 20 years is customer proven technology. Our goal is to continue to transfer this knowledge to our expanding portfolio of products and services. 
At BCC, we are committed to solving interesting challenges. We are ready to bring our experience and custom tools to our customers migrating to a more digital workplace. As a trusted Microsoft and HCL/Lotus partner, we see ourselves as an independent advisor, that is, who is focusing on the of the customer needs. Also, because of being in the market for so many years, we understand that no two customers are alike. That one size does not fit all. It's not about just selling a piece of software, but it's really looking at each customer and having the flexibility to take the solutions that you have and customize it for that company and create something that is truly unique based on their needs and have it fit and having the experience, having the knowledge and having the staff that can create those unique solutions for each of those companies to be successful.  

Olaf Boerner
Founder and CEO (Chief Executive Officer)
Join our team
Becoming a part of BCC gives you a chance to lead in the fields of business teamwork and tech innovation. By pursuing a career with us, you're taking on a position that plays a pivotal role in defining the future landscape of Microsoft and HLC ecosystems globally.