Published on July 7, 2017
New Hire Onboarding Is A Lot Like Renting A Car

BCC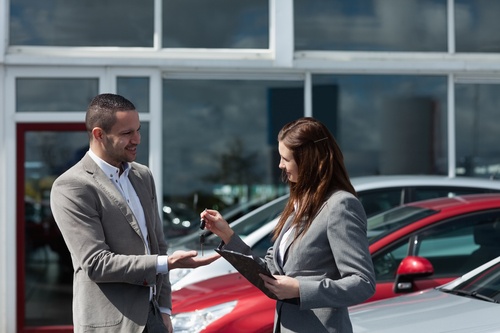 Do you speed a new hire along the on-ramp or make them wait at the rental desk?
I'm going to make a rather large assumption at the beginning here and that is you travel and sometimes you rent a car at the airport.
If you do this regularly you may be tempted to become a valued member of the loyalty program for the rental car company of your choice. When you do, what happens next is really quite astounding the next time you rent a vehicle from your chosen company.
You normally turn up at the airport destination, walk out to the car park and find your name on a board listing the spot in which your rented car is parked. It's almost as if they were expecting you!
That feeling you get of welcome and ease of passage allowing you to get on with your journey straightaway is a really powerful one for travelers.
Considering the alternative of turning up at another brand rental desk and having to fill in the forms, show them your driving license and get all of the insurance preferences out the way -- details your preferred rental company has on file about you. Then you have to barter about which vehicle you're going to get out in the parking area. Even if you've booked the vehicle in advance, it is as if they weren't expecting you to show up.
Compare that to how you would feel when you turned up at your new job? Are you made to feel this welcome? As if the company were expecting you?
The new hire onboarding process can be really frustrating to a new employee or new team member if it's slow, cumbersome, and they have to wait around or fill in the same information a bunch of times.
Have you ever turned up somewhere new and they've spelt your name wrong? How did that make you feel? And more to the point, how long did it take to get fixed?
How would you feel if, when you turned up on your first day, all the systems are set up, the information you need is all set and your laptop is already there waiting for you?
My guess is that you could be a whole lot more productive if these things were ready for you upon your arrival. Just like the eager traveller, you could start working and being productive almost instantly.


With user lifecycle tools you can help this situation by delegating responsibility for on-boarding new employees and team members to the department best placed to deal with it. This may be an IT function currently but it doesn't have to be. Human resources departments are all set for on-boarding new employees and moving existing employees from one department to another. So why not make use of this talent and allow them the ability to enter employee information once and have that information propagate to the organisation's systems.
The benefit to the employee is that their information is only entered once and therefore has more chance of being correct. They can also be made to feel very welcome with the inclusion into new starter forums, the right groups and systems for their job role and not having to waste time finding out what's available. The fantastic by-product of this comes in the speed of productivity achieved by the new employee or team member.
Leaving the car park in your rental car just minutes after arriving can be a thrilling experience, allowing you to start your journey right away.
Leaving your new manager's office having had 45 minutes of solid discussion about your new role can also be a thrilling change to the normal 45 minute excuses about email account passwords and lack of laptop availability.
BCC AdminTool is a user lifecycle management tool that integrates with other systems and allows you to delegate responsibility for on-boarding to the right department.
Want to learn more?
Back to all news