Published on August 8, 2019
HCL Connections what the future holds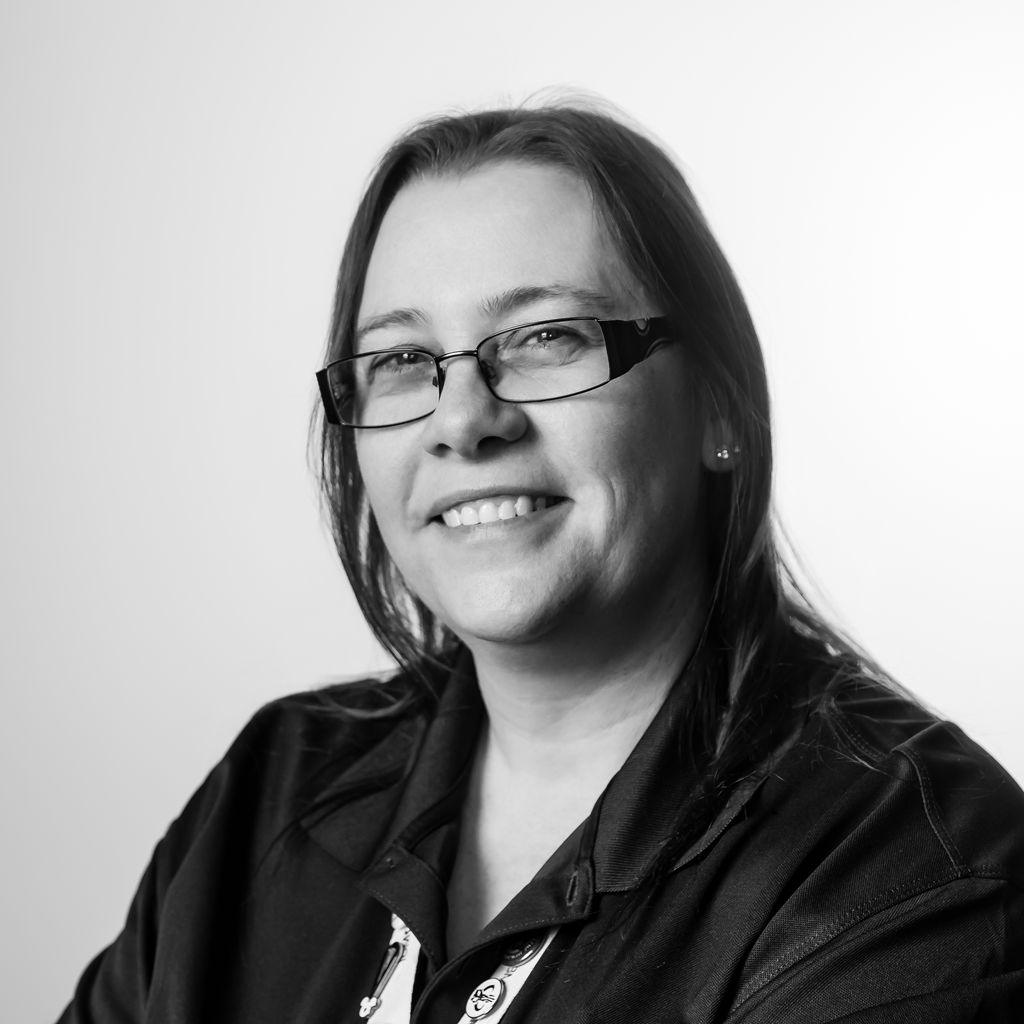 Sharon James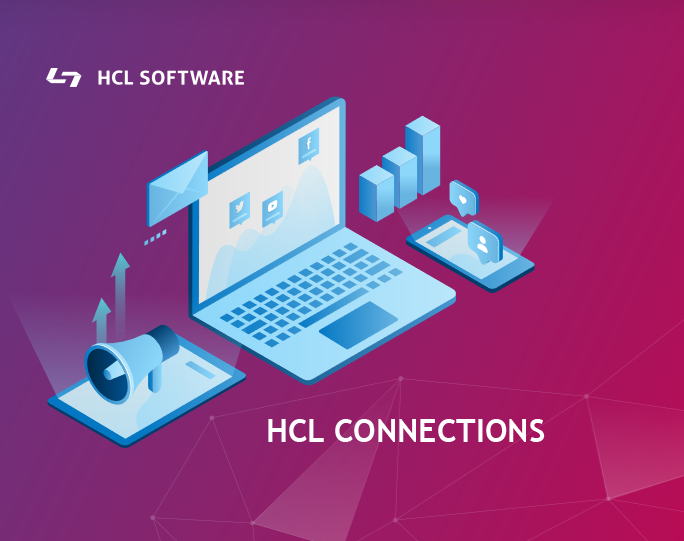 Tuesday 6th August Sharon joined the HCL Connections - Our Future is Now call with Danielle Baptiste. Here is a summary of what is in store. Let's just say that HCL's development and commitment to Connections is taking a similar path to Domino ......
In the lead up to the deal with IBM, it may have seen like HCL were sitting on their hands, but a lot of work has gone on behind the scenes to form a great strategy and road map for the future.

One of the first bits of news is that HCL recognise that Employee Engagement and the adoption of tools is a bigchallange for most organisations and historically there hasn't been a lot of help around this .. that is going to change. A lot of work has been and will be carried out on the UI and the design to help people want to work out of a single interface - more on that later.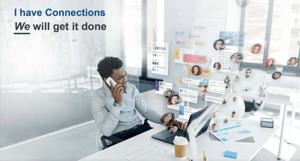 There is still a lot of emphasis on teamworking and collaboration with people inside organisations. More work has been done to improve the Orient Me dashboard, but additional work to include 3rd party applications and external users and a bunch of other enhancements is being worked on.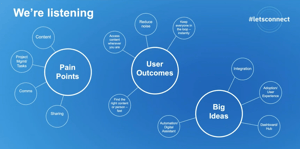 One of the most refreshing things that has happened in the last 6 months or so, is that HCL have been listening. Workshops, jams and feedback sessions for customers and partners have been held to gather real world experiences, issues and ideas from us - the people that use Connections daily. A lot of the new and improved features have come from this feedback, so thank you HCL.
One of the hot topics during the jams and workshops was INTEGRATION. This is a very important for many organisations as they have multiple sets of tools and applications. A "one tool fits all" approach just doesn't cut it in today's modern digital workplace.
HCL believe Connections will be the place where you get your work done, surfacing your workday through Orient Me - everything in one place like Connections apps, 3rd party apps, calendar, to-dos etc. This will be made possible with the ability to integrate.
Lets talk new features coming
Additional features are being added to show detailed user information and help visualize your network, making it easier to find experts. The idea of harnessing the power of your network really comes into play. After all, collaboration and knowlege sharing is all about the people behind the content.
| | |
| --- | --- |
| | |
One of the other exciting new features announced is the Tailored Experience. The idea is similar to communities, a space with widgets to match the purpose of what you are trying to achieve. From a single user dashboard through to a customised team collaboration space, these will be highly flexible and give you the ability to bring in 3rd party apps to build the experience required. Once built, a template can be created for easy redeployment of a similar experience. These Tailored Experiences will have a lifecycle attached to them - which I hope is being rolled out to communities too. You will have the ability to set the lifecycle to: under construction, live, read only and archive, making these Tailored Experiences and new communities a real asset and exactly what Connections needed.
Roadmap
The roadmap and delivery schedule is as enthusiastic as the Domino roadmap, which is refreshing. Connections had become a little stale after all the "ra-ra-ra" of Connections Pink and there was little delivery. In the next 18 months we will see at least one Connections CR, 2 full releases and a bunch of improvements.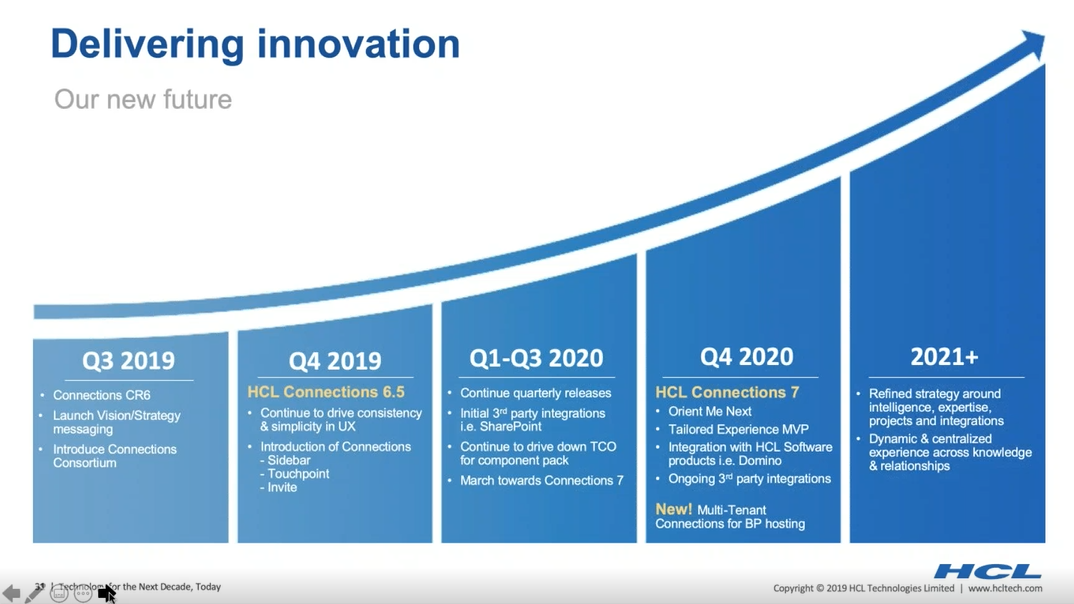 A quick summary of what is to come
Connections 6.5 - Will be available in November 2019 - The first new release for what seems like forever. There will be some design changes and the branding will change to HCL Connections and new applications will be added.
TouchPoint - For onboarding assistance - although it was an optional add on for Connections previously, it can now be deployed as part of the core Connections install.
Invite - Previously available as a services only engagement - Allowing you to invite guest users to Connections wiil be part of the core Connections installation. Looking forward hearing to more details.
SocialSidebar - The ability to integrate a Connecitons Sidebar to other websites and applications.
Q1-Q3 2020 - The excitement of initial 3rd party integrations is coming early next year. Being able to integrate with Sharepoint and Office 365 etc. A lot of companies have been waiting for this. Olaf Boerner, our CEO, and I presented on this at Engage earlier this year. HCL have listened and I am very excited to see what they will deliver. Other big pieces in this release cycle will be work around the componant pack.
Connections 7 - Q4 2020 - Version 7 is where we are really going to see some big changes for Connections. A new version of Orient Me with the 3rd party integrations, Tailored Experience, Integrations with Domino and Sametime and more. Customers who have stood by Connections are really going to benefit from these new changes.
Connections Cloud
The Connections Cloud as we know it will be out of service on July 16th 2020 - so what does that mean if you are a Connections Cloud customer? The message is cloud isn't going away .. but it will be different. HCL are currently working on a number of cloud options.
HCL Public Cloud - The reasoning behind this is to be a true open multi-cloud enviroment. This will allow the integration pieces to work as they should. The current Connections Cloud doesn't allow this.
Private Cloud - Choose a vendor or partner of your choice and deploy Connections to it.
Partner Cloud - Partners can run a multi-tenant cloud allowing the customers to keep the data in their country. This will also allow partners to develop Connections systems for specific industry sectors i.e. banking or healthcare. HCL are aiming for this to be ready to co-inside with Connections 7 Q4 2020.

The cloud systems will continue their quarterly update schedule of continuous delivery.



Danielle mentioned containerisation when talking about the cloud and on-prem pieces in this slide. This has previously filled me with dread because of historical issues around the architecture. HCL are working on this so that customers who are currently running a Connections environment on a single VM can also benefit from this.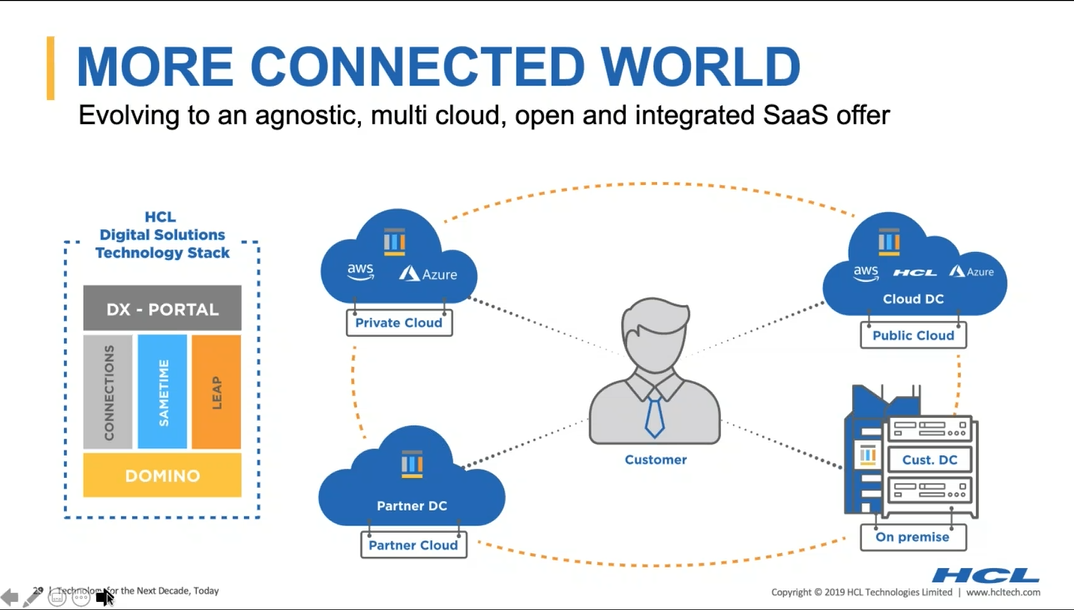 More information will be announced in the coming months. If you are currently using Connections Cloud you will need to have moved by 16th July 2020 - so start thinking about that now.
How BCC can help
There are a number of ways we can help you with Connections whether you are on-prem or in the cloud.
User Management - User management can be a chore in any organisation. With many systems needing a specific user account how can you manage them affectively. BCC's AdminTool can help - create, update, remove and manage accounts in Domino, Active Directory, Connections Cloud, Office 365, Microsoft Teams and more - all from a single simple web interface. Keep account information in synch, automatically create and update accounts in different systems and delegate account management without compromising security.
Upgrades - If you are a user of Connections on-prem, it is no problem to get to the latest version or prepare for the next upgrade. Our consulting team are experts in Connections upgrades. We can help you plan your project, advise on the best path and work with you or upgrade the Connections systems for you.
Administration - Need help with day to day Connections administration? We can help with that too. Our team have years of experience with Connections administration. We can even help train your team.
Migrations - Need to move from cloud to on-prem or to a different system? We can help with that too.
If you would like any more information on how we can help with HCL Connections drop us a message.
Back to all news