Published on February 15, 2017
Going to IBM Connect 2017? So are we...

BCC

I, Tim Clark, will be at IBM Connect again this year, but this time in San Francisco. Not my first time to Lotusphere / Connected / Connect or first time to San Francisco. But it will be my first time being with BCC at Connect and we are all quite excited to be honest.
This year sees some monumental shifts for the event, the change of location, more Watson information and a great looking event schedule with some amazing sessions.
So what's new this year?
Moscone West Conference Centre is the most obvious difference for this year's conference. Placing the event into a dedicated conference centre could change the dynamic of the event, as there will be no obvious social meeting point for everyone as there has been with it being in hotels previously. With everyone spread across the city in different hotels we are sure that a few bars will soon be found to become the new social hub in the evenings.
The Opening General Session would appear to be in two halves again this year as it worked quite well in that format last year. We also expect WatsonWorkspace (aka Project Toscana) will be front and centre of the OGS along with the usual suspects of IBM Verse and now Verse On-Premises, Connections and Connections Cloud. You may also see some more of the Digital Workplace portfolio and it will mostly involve Chris Crummey again, but who else?
Sessions this year are going to be quite different as there are no "jump-starts" or "show & tell" sessions. But expect to see a lot more IBM generated content, which is no bad thing as it is their conference. There will obviously be a bunch content from the usual suspect and, as always, great IBM Champion speakers.
Solutions Expo will be in the same space as the dining area so everyone will know where the sponsors and food are. There will also be an expo theatre in it with seating for 60 and a complete schedule of sessions just for the expo theatre.
BCC at Connect
Check out the new and improved ClientGenie 6 - the complete client management solution which audits and analyzes your Notes clients, has plugin management and automates setup and configuration.
We have FREE* ClientGenie Analyzer Edition licenses to give away for everyone, so make sure you come and get yours. See this blog post and video for more information on ClientGenie Analyzer Edition.

Also new this year is AdminTool for Connections Cloud, this time saving toolset will speed you through your user administration tasks in your IBM Connections Cloud or hybrid environment. This augments the established and reliable AdminTool that has been around for over 10 years.
We can also help you boost the security of your IBM Domino environment, prevent unauthorised changes in real time, allow you to secure your server.id file and still perform unattended restarts, all this ensures regulatory compliance with DominoProtect.
What about showing you how MailProtect can easily protect your messaging infrastructure, ensure you have corporate design compliant email signatures and how to instantly encrypt outbound emails.
See you there
As you can see we have lots to show you this year and we are looking forward to seeing you all in San Francisco.
We put our heart and soul into our software and services solutions and thought that you might like to share in our passion. Just in case we don't have the legendary 'Pretzel Cookie' this year BCC are coming to the rescue with an all German Lebkuchen.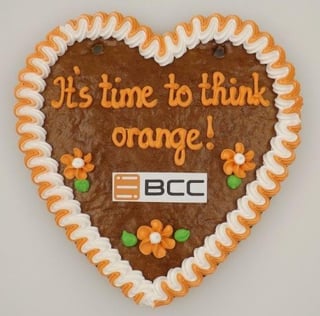 Come and see us at booth (#236) and grab our heart.
Want to set up some time to meet with us at Connect 2017?
Back to all news