Published on February 10, 2017
ClientGenie Analyzer can give you a 360° view

BCC

For administrators, who want to have a handle on their IBM Notes client environment, it is crucial to understand what you are working with from the outset.
Whether daily administration or starting client upgrades, both require knowledge about the environment, with BCC ClientGenie Analyzer Edition you can get all the information you might need before you start.
If you are an administrator what if you could see
Notes install path
Notes data directory path and list of plugins installed
Home server, location and central server
ID information : ID filename (fully qualified), ID certification, RSA encryption ID string, RSA profile, Public key expiration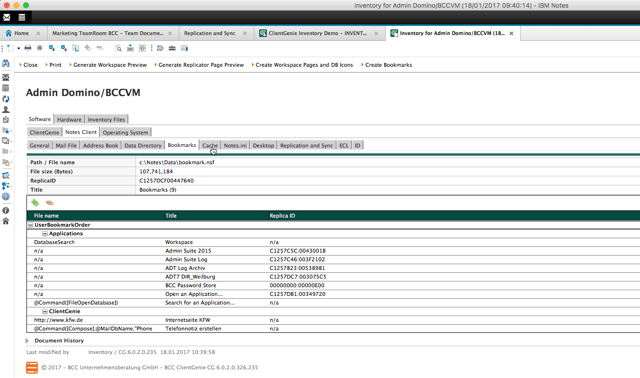 Working as part of a service desk and answering user enquiries about their Notes clients can be time consuming and often requires screen share. Using ClientGenie Analyzer Edition you have all of the information in a neat catagorized Notes database.
Support staff can use ClientGenie to
Recreate a users workspace using the virtual workspace option - checking the icons and databases configured
Checking a user's replication configuration to help resolve any potential issues and conflicts
Information about the users hardware - screen resolution, memory, hard disk free space, services running, environment variables and more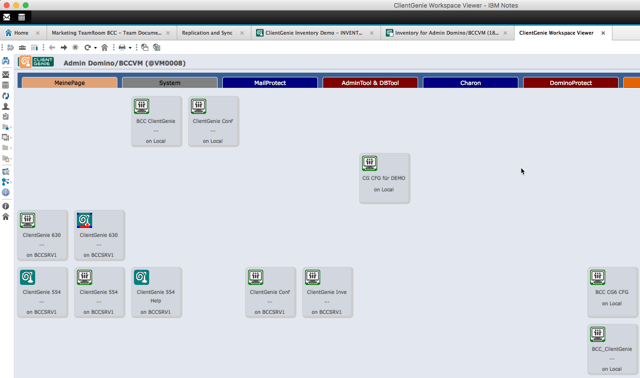 Running reports on your environment is impossible without some form of audit. Asking users to complete surveys will never yield the right results, so you have to have some form of machine automation. ClientGenie Analyzer Edition does just that for you, but not only does it audit the Notes client environment, but also the key points of the Operating System too.
If you're an IT manager how great would it be to report
How many desktop and laptop users you have
OS version and service pack for your users
How many licenses you require
That additional insight into the environments could help you with IT projects such as
Domino, Notes Client upgrades
Cloud migration - how large is the mail file, what template is it using, archiving information, etc.
IBM Verse On-Premises - On Disk Structure, Templates and mail server
So with all this information you can set out into your next IT project, a day of support tickets or write an audit report safe in the knowledge that you have the information you need at your fingertips. No delays and speeding though you day.
Experience the 360° insights into your Notes environment for FREE*.
We also have a short video that you can watch to see ClientGenie Analyzer Edition in action.
Just visit the ClientGenie Analyzer Edition page and complete the form. We'll contact you to work out the details.
* Free for 12 months.
Back to all news