Come and visit us at this year's IBM Think in Las Vegas, Nevada March 19-22!
Discover what the world is thinking at Think 2018, IBM's first business event to go beyond IT conference, exploring cloud technology, data analytics & security.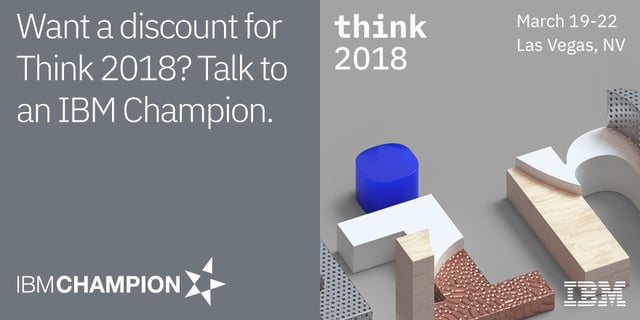 IBM are making a bold move by merging all of it's major conferences into one this year, so what does this mean?
Connect (Lotusphere as was), InterConnect, Amplify, Edge, Vision, World of Watson and PartnerWorld are all merged into IBM Think! That could be a potential 40,000+ attendees this year, so twice as big as InterConnect was in 2017.
With 4 campuses, over 1,000 expert speakers, networking events, expert talks, innovators, demonstrations, education and more, Think is shaping up to be THE event to attend for 2018. If you would like a $100 discount off of a conference pass please drop one of our IBM Champions an email.
Schedule a meeting with our attendees: Sharon James, Tim Clark
Presentations
One of our IBM Champions Sharon James will be presenting at Think with fellow IBM Champion Roberto Boccadoro.
A Hitchhiker's Guide to Troubleshooting IBM Connections ( Session : 1409) on Mon, 19-Mar, 12:30 PM-01:10 PM in Mandalay Bay South, Level 2 - Surf B.
Sharon James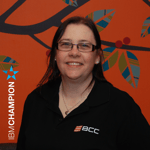 Sharon has been working in the IT Industry since 1996 and since 2003 she has been dabbling in all things ICS – mainly WebSphere including Application Server, Portal and Commerce, amongst many other IBM/Lotus software offerings.
Since 2009 she has specialized in IBM Connections and related IBM collaboration solutions software.
Sharon has spoken at many user groups and Lotusphere/Connect, has been an IBM Champion since 2011 and is also on the board for ICON UK, the UK IBM user group.
If you'd like to learn more before Think, get in touch today!