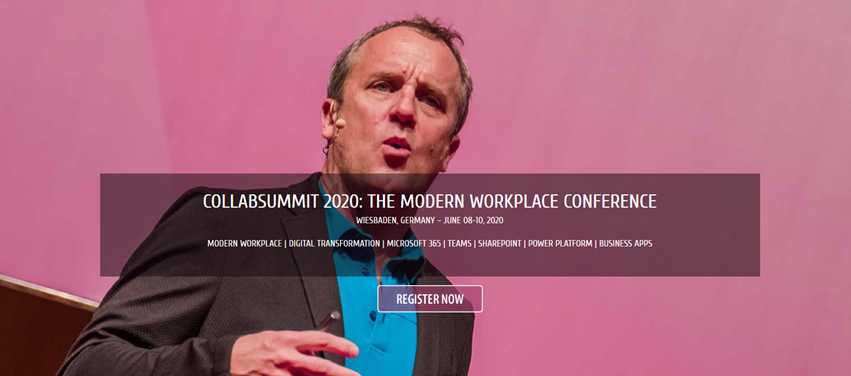 On the 8th to 10th June 2020, the "European Collaboration Summit" (ECS) will take place in Wiesbaden, Germany.
The European Collaboration Summit, also known as Collabsummit, is the largest community-driven conference in the world with a focus on modern workplace technologies and digital transformation.

Collabsummit 2020 is the leading and the largest European conference about everything Microsoft 365, Teams, SharePoint, Power Platform and Business Apps. During this three-day event, world-leading experts and speakers will deliver a series of full day tutorials and a range of "what's new" and "best practices" breakout sessions relevant to these technologies.
BCC has been an expert for management of collaboration platforms for over 20 years and is now expanding its expertise and solutions to the Microsoft platform including our Teams Management solution. Microsoft Teams is clearly on the winning path as more and more companies are beginning to use it as their main vehicle for communication, collaboration, meetings and decision making.
Come visit our booth where we will be happy to talk to you about:
Microsoft Teams life cycle management without admin center, powershell and administrative access rights
Self Service request for new teams and members
Ensure retention policies for teams
Auditing and reporting of all requests
Identity Management and Access Governance
Microsoft Office 365 User, Guest User, Group and Mail-in databases Management
Microsoft Office 365 User License Management
Active Directory / LDAP User and Group Management
Microsoft Azure Active Directory User and Group Management
Microsoft Exchange to Microsoft Office 365
Microsoft Office 365 to Microsoft Office 365 tenants
Lotus Notes to Microsoft Exchange / Microsoft Office 365
Lotus Notes Application Migration & Coexistence
Come and join us for ECS 2020 and schedule a meeting with our team

Details

Date:

8 - 10 June 2019

Organizer:

Nubelus UG

Website:

Venue

RheinMain CongressCenter
Friedrich-Ebert-Allee 1, 65185 Wiesbaden,
Germany