MWLUG has been rebranded to Collabsphere for 2018. Come join us in Ann Arbor, Michigan on July 23-25, 2018 for the tenth annual MWLUG/CollabSphere conference. Collabsphere is one of the only User Groups in the US focusing on IBM Collaboration Solutions and BCC are proud to be sponsoring this event again.

One of the hot topics at the moment is GDPR and our focus at Collabsphere will be all around Domino security in a GDPR world.
GDPR has been at the centre of BCC's focus for the past 20 years. Security and data protection are buried deeply in the DNA of the company.
Come and have a look how AdminTool provides procedures to grant and control access rights to your data and how it handles the demand for the right to be forgotten.
We also will showcase how DominoProtect can monitor access to your data and prevent unauthorised data access even for people who have full admin rights.
Find out how MailProtect can help to intercept emails that hold sensitive data and get sent by your staff without the required encryption.
Come and see us at the conference. Don't worry if you can't make it, just get in touch and we can talk.
We hope you are able to join us on the July 23-25, 2018. We will also be giving away an awesome prize at the event, so make sure you stop by the booth and drop your business card into our prize draw for your chance to win.
Schedule a meeting with our attendees: Stephanie Heit, Tim Clark
Details

Date

23-25 July 2018

Organizers

CollabSphere is operated by GRANITE User Group located in Chicago, a non-profit 501(c)3 organization. All funds collected for the CollabSphere conference are used to cover the operating cost of the conference. All CollabSphere committee participants are ICS community members who donate their time and resources to help organize this great conference. Please take the time during the conference to thank them for their efforts.

Registration Link

Address

Sheraton Ann Arbor Hotel
3200 Boardwalk Street,
Ann Arbor,
MI, 48108-1774,
United States



Presentations
IBM Champion Tim Clark will be speaking not once but twice at the event. He hopes you can join him for:
Best practises for deploying Verse on Premise (VoP)
IBM's local edition of Verse for email is hitting many enterprises. If you have not yet tried this out for yourself, then come and find out just how easy it is.
Learn the tips and tricks that go into a successful deployment with a hands-on demo of the places to look out for and the finished product.
We'll also show the integrations with Connections Files, Profiles and Box.
Domino security in a GDPR world
The fines for EU General Data Protection Regulation (GDPR) came into force on the 25th of May 2018. Think it doesn't affect you? It affects those providing products or services to EU customers, and to those who process and hold their data. GDPR is not just about securing data, data management, the justification for keeping it, and how it can be removed is all part of the bigger GDPR picture. We will walk you through a scenario explaining the guiding principles of GDPR, how it may affect your organisation, how you can secure your Domino environment to comply with the regulations – without it being as boring as watching paint dry. .
Tim Clark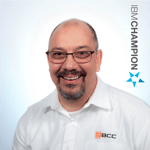 Tim lives and works in the UK as the BCC Director of Services & Support. Having been in IT since 1987 he has seen a lot of technologies come and go, and some of them even come back around again. Over the years, he's played the role of manager, mentor, administrator, educator, evangelist & more. His ability to connect with people and gain their trust is second to none. Tim specialises in Prince 2, ITIL, IBM Domino, Mac, Linux, Windows, MDM, Sametime, Connections, WebSphere and empathy based support methodolgies. He also leads the ICON UK IBM user group in his spare time. Tim is also an IBM Champion (2013-2017)
For fun Tim enjoys BBQs, rides bicycles, motorcycles & scuba diving. To relax he plays drums as part of the house band at his local church. Tim loves spending time at home with his wife, 2 children & 3 cats