IBM Connections is a great system but only works if maintained regularly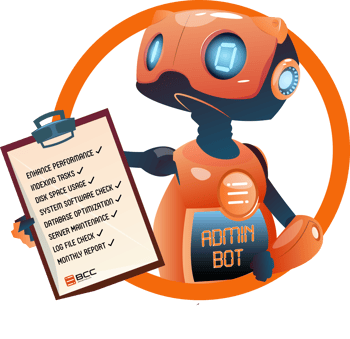 Take the pain out of your regular maintenance of IBM® Connections™. Our IBM Connection AdminBot (it's a real human being) will connect to your system and check for all known issues and run any preventative maintenance required.
Our certified and experienced staff can check on your system for you, which leaves you with time for your other work. We will inform you with a monthly report of anything that catches our eye and inform you immediately of potential show stoppers.
IBM Connections has a lot of moving parts that require some tender loving care and that's where our Connection AdminBot comes in. To make sure that your Connections system is working as planned, they will connect to your system, run a list of weekly or monthly checks and then report back. If there are simple things to fix wihtout affecting the system integrity, they will fix them and move on to the next check.
The return on investment for this peace of mind can be realised in the cost of one outage being prevented.
With a small minimum commitment, of just 1 day a month, we are able to keep your Connections system working at peek performance. More time can be allocated if your system requires.
Benefits:
Our fully certified technicians save you the time in having to administer Connections, WebSphere, DB2, TDI and IBM HTTP Server administration

Full monthly report of maintenance tasks and status

Peace of mind, knowing that your Connections system is being maintatined
Fully maintained system will be easier to upgrade
Regular checks include:
Connections - Search index tasks, disk space usage, community library sizes, etc.

Database optimization
WebSphere best practise maintenance tasks

Log files - check for errors and known issues